Retired Supreme Court, High Court and Family Pensioners will receive revised rates of 31 percent DR from 1st July 2021
|
31% Dearness Relief to retired Judges
With effect from July 1, 2021, retired Supreme Court/High Court judges and their family pensioners will be eligible to Dearness Relief on pension / family pension at the rate of 31% of the basic pension / family pension (including additional pension / family pension).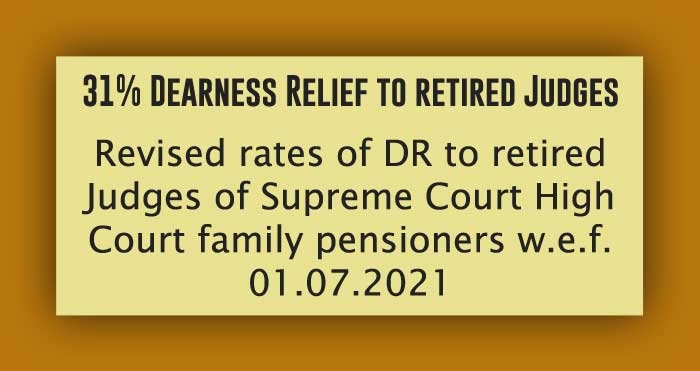 GOVERNMENT OF INDIA
MINISTRY OF FINANCE
DEPARTMENT OF EXPENDITURE
CENTRAL PENSION ACCOUNTING OFFICE
TRIKOOT-II, BHIKAJI CAMA PLACE
NEW DELHI-110066
CPAO/IT & Tech/Bank Performance/37 Vol-III/2021-22/7109/155
08.12.2021
OFFICE MEMORANDUM
Subject: Revised rates of Dearness Relief to retired Judges of Supreme Court/ High Courts and family pensioners of such Judges w.e.f. 01.07.2021.
Attention is invited to the OM No. L-19016/01/2018-Jus. dated 05.11.2021 (Copy enclosed) issued by the Department of Justice, Ministry of Law and Justice.
All the banks are requested to follow the instructions issued vide OM ibid scrupulously and implement the same at the earliest.
This issues with the approval of the Chief Controller (Pension).
Encl:- As above
28% Dearness Relief for retired Supreme Court and High Court judges, as well as their family pensioners w.e.f. 01.07.2021
(Satish Kumar Garg)
Sr. Accounts Officer (IT & Tech)